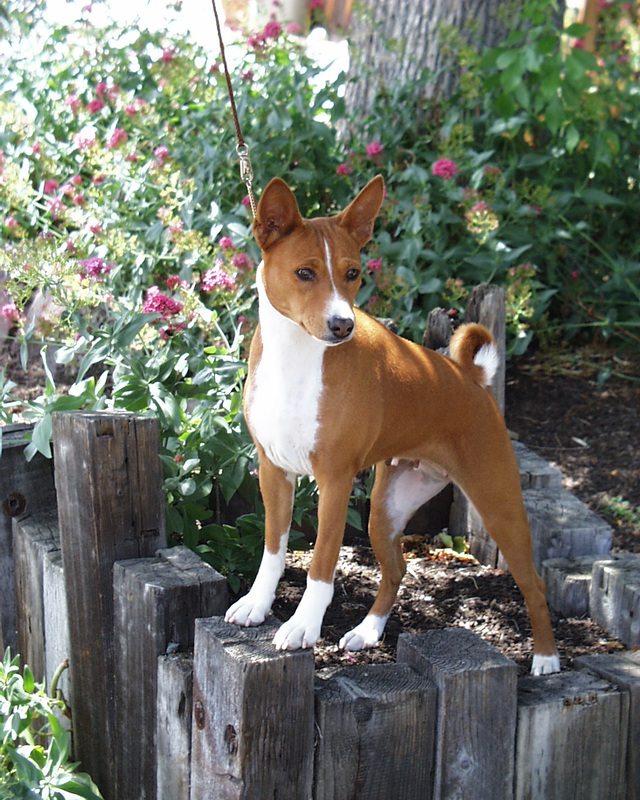 Ch. Bushbabies' Avatar of Voyuz, JC
12/31/1994 - 12/04/2009

Avi was a 1996 National Specialty Award of Merit winner, Hound Group Winner and multiple Regional Specialty winner. Her likeness is found to this day on the MB-F, Inc. website representing the Hound Group and the above picture was used as the model for the 2007 Basenji Club of America's National Specialty logo. She was bred by George & Teresa Gavaletz of Bushbabies Basenjis. Her sire was Ch. Jasiri's Patton Pending and her dam was Bushbabies Serengeti C-Note. Avi was described by breeders and judges alike as having a practically perfect head, the deepest naturally occurring red coat seen in years, and an excellent silhouette. She was also a spoiled rotten brat who could spew profanity of such vitriol that rarely was there a dog that wouldn't get out of her way- except for Ch. Zuri's Obviously Maggii- who she always tried to play with. Don't Ask- it was Avi.

Avi was bred once- by accident- to Brenn and produced a litter of four with only our own Spaz being shown. Avi developed bowel and bladder problems that escalated over a two week period and I had decided to let her go on December 4, 2009 a few weeks before she turned 15; and found Gunn had passed away in his sleep that same night. It was a hard day.