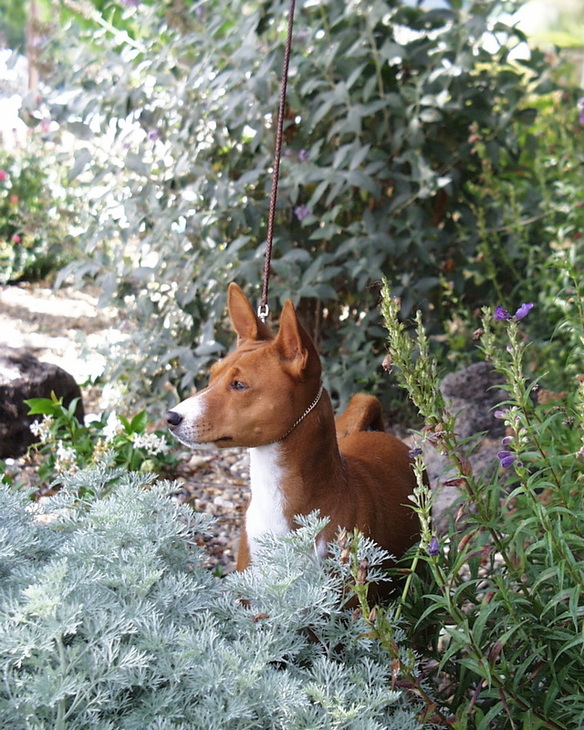 Ch. Voyuz the Wretches' Gone Awry, JC
02/03/1999 - 11/07/2016
Spaz. First born of our first in-house litter, and it was an oops. That pretty much describes Spaz from the get go. Brenn bred Avi, even though she showed no signs of being in season, and veterinary slides said she wasn't. Cue a month later when palpation found puppies and ultrasounds showed little blobs. She born, headfirst without the birth sac- already raising a ruckus. She earned the name Spaz by leaving little puppy prints on the wall above the couch at just 7 weeks.
Like her parents, she had an incredibly dark red coat and a pleasing head. She was very compact, but maintained a level topline and moved freely and clean. She finished at just under 2 years of age with back-to-back majors, winning multiple breeds and earning a few group placements. She was a regional Specialty winner. Spaz produced a single litter of two, sired by Ch Jerlin's Braveheart- our Elvis and Ronnie.
Spaz outlived every other Voyuz Basenji and probably all of her contemporaries, being helped along on November 7, 2016 at the age of 17 years, 9 months and 4 days. She could no longer stomach food or sustenance, and could barely drink. I probably should have allowed her to leave days earlier, but she was the Pumpkin, and I didn't want to let go.